Selecting new cabinets can be a big expense when remodeling and may account for as much as 40 percent of your kitchen renovation budget. They set the design style for your kitchen and you'll have them for years. No pressure, right?
With such demands on dollars and design, the current trend is to be more conservative. White cabinets are popular. So are cabinet styles that are less fussy and more streamlined—such as the clean lines and square corners of Shaker cabinetry.
Use this buying guide to help you choose, but note that Consumer Reports does not test cabinets at this time.
Shopping Tips: What's in Store for You
It used to be that dovetail joints inside the drawers were practically all you needed to distinguish high-end cabinets. That distinction has blurred as more manufacturers offer premium features, even on low-end lines. Past cabinet tests at Consumer Reports proved that you can have these and other once exclusive features yet still wind up with shoddy construction.
A little research beforehand can save you time and money. Research manufacturer and retail websites, then take a good look at store displays; you'll be able to tell the quality cabinets from the polished pretenders once you know where to look. Trust your taste. The kitchen should complement the rest of your home, so choose what you love.
Consider Your Budget
There are three cabinet types: stock, semi-custom, and custom. (See a side-by-side comparison below.) Stock cabinets are sometimes sold at home centers pre-assembled, while Ikea and other stores sell versions that require assembly. Stock cabinets are usually limited in colors and styles. Semi-custom cabinets offer more style options and configurations, allowing a more precise fit for your kitchen. Custom cabinets are the most expensive option, but can include many added features you've chosen, and of course, your exact specs.
Pick a Style
Framed or frameless? Framed are made of a box and face frame, to which the doors and drawers attach. Frameless cabinets, also known as European-style, skip the face frame, and the doors and drawers attach directly to the cabinet box. The look is more contemporary and interior access is easier. But the lack of a face frame can compromise rigidity. Better manufacturers compensate by using a thicker box (3/4-inch plywood instead of 1/2-inch particleboard, for example). If you want the European look but also want a framed cabinet, choose a full-overlay door. It covers all or most of the face frame.
Inspect the Construction
Well-built cabinets have solid wood drawers with dovetail joinery instead of stapled particleboard; full-extension drawer guides rather than an integrated rail; and doors with solid wood frames surrounding a solid wood or plywood panel, instead of veneered particleboard or a medium density fiberboard (MDF) panel.
Focus on Features
Although they can increase cost by more than 20 percent, useful features include a pullout trash can and built-in charging station. A lift cabinet, with a spring-loaded shelf that swings up and out, offers easy access to your stand mixer or food processor.
Consider Revitalizing Your old Cabinets
If your current cabinets are plumb, square, and sturdy, consider repainting or refinishing them. To do it right, remove doors and drawers, clean them with a degreasing agent, sandpaper, and apply a primer and multiple top coats (or pay a pro about $50 per door). Cabinet refacing is also an option. It's ideal for framed units and involves replacing the doors and drawers, and applying new veneers to the face frames and ends. Cost is about $150 per cabinet. You can also make old cabinets easier to use by adding pull-out shelves, lazy Susans, and other inexpensive upgrades. The final touch: Install under-cabinet LED task lights.
Kitchen Cabinets for Every Budget
Cabinets can vary greatly in price. Here's an overview of the three types of cabinets in broad price segments that you'll find at stores. Keep in mind a typical kitchen has 25 to 30 feet of cabinets.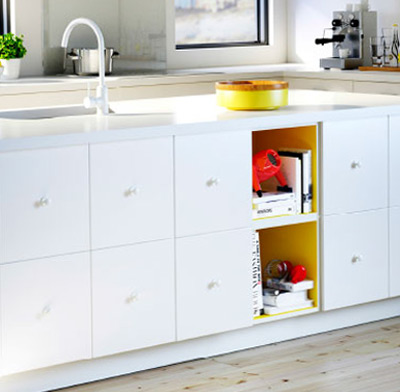 Budget Cabinets
Often called stock, these are inexpensive, off-the-shelf cabinets. Some are fully assembled while others will need to be assembled onsite. Many use frameless construction where the door has no lip or "reveal" around it.
Pros: A money-saving choice if you aren't too picky about style options or don't demand a perfect fit. Some brands offer better drawer construction, solid-wood doors, and other once-pricey features. And past tests found some basic models that perform better in our wear tests than more expensive models.
Cons: Often made of thinly veneered particleboard, rather than higher-quality plywood. Style and trim options, sizes, and accessories are limited. Figure on an hour or more of assembly time for each set of base and wall cabinets.
Cost: Starting at $70 per foot.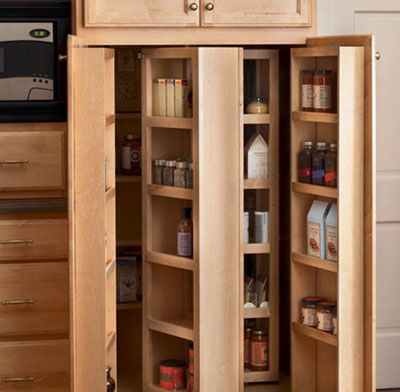 Mid-Level Cabinets
These semi-custom models are a sound choice for most kitchens. Many use face-frame construction, where the solid-wood frame shows around the door and drawers.
Pros: Mid-level models offer many made-to-order custom options, including size, materials, finish, elaborate crown moldings and other trim, and accessories such as range hood covers. That can make them the best-value option overall.
Cons: As with basic cabinets, features and quality can vary considerably. Boxes may be veneered particleboard rather than higher-quality plywood.
Cost: Starting at $150 per foot.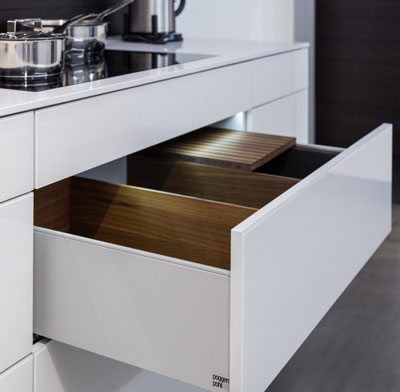 Premium Cabinets
Short of custom made-to-order cabinets, these semi-custom models offer the most style and storage options.
Pros: They generally come with plywood boxes and other premium materials and hardware. Widths may come in 1/4-inch increments, rather than the typical 3 inches.
Cons: While generally less expensive than fully made-to-order custom units, models with the most features and highest quality can cost as much as some full-custom units.
Cost: Starting at $500 per foot.
https://cabinetsbymail.com/wp-content/uploads/2017/07/cbm-logo.png
0
0
Ben Bullock
https://cabinetsbymail.com/wp-content/uploads/2017/07/cbm-logo.png
Ben Bullock
2019-03-04 07:27:04
2019-03-04 07:27:04
Cabinet buyers guide from Consumer Reports